Prima Cheese Charity Operation - The People's Kitchen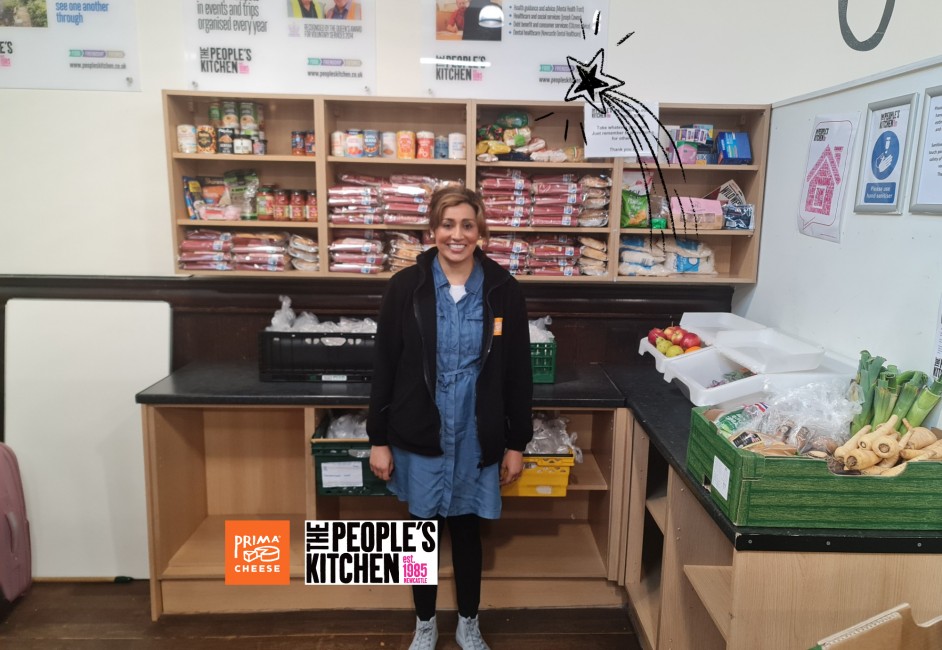 Prima employees spent a wonderful day at The People's Kitchen
Last week Alex from our Operations team and Manal from UK Sales volunteered their time at The People's Kitchen! They arrived ready to get stuck in and help in any way they could. Manal kindly shared with us an account of their day…
"What a wonderful organisation to visit and volunteer at. It was fantastic to meet the dedicated volunteers who prepare over 300 meals per day and provide a delicious 3-course meal every day, along with other essential items, like clothing, toiletries, and showers to those in need.
We carried out some work in the walk-in freezer by removing a solid chunk of ice that had formed and was causing an obstruction in the walk-in freezer. Alex and I organised and arranged all the shelves in the freezer by category ensuring frozen food items were visible and on display, neat and tidy.
We stocked and arranged grocery food items, like tinned food, fresh fruit, and fresh vegetables in the little shop area that had been collected from Supermarkets that day. We put out items donated by food companies in the local area. We also organised and arranged the bakery section. The bread, pastries and buns rolls are put out for the Friends so they can help themselves and take them home with them each evening. We arranged the tables and chairs in the dining hall in preparation for the evening meal.
I was inspired by this visit and thoroughly enjoyed volunteering here. The volunteers were lovely and were very welcoming to us. Alex and I both enjoyed the volunteering day so much, that we both feel driven and motivated to give up more of our spare time to volunteer on further projects supporting fantastic organisations like The Peoples Kitchen."
We are keen to continue to give back to local charities and have arranged for more of the Prima team to volunteer their time over the coming months!