Want to join our team of cheesy superstars?
We've got a whole host of opportunities to join our growing team at our HQ in Seaham, County Durham. With 13 departments, we have openings for ambitious and driven team players who love working with a friendly (and cheese obsessed) team.
We are your cheesy employer of choice
When you join Prima Cheese, you aren't starting your next job, you are starting your career.
Current vacancies
Take a look at our current opportunities
Benefits on benefits
Some of the best things about working at Prima Cheese
Great work life balance
Generous holiday allowances and schemes, flexible working and no weekends
Cycle to work scheme
Get exercise and help with your bike purchase. Win, win!
Family friendly atmosphere
Join our welcoming team with regular charity fundraisers, socials and games
Modern workspace and gardens
Newly refurbished offices, state of the art factory and tranquil landscaped gardens
Recognition and reward
We regularly reward our staff with awards like Employee of the Month
State of the art tech
State of the art technology and equipment as well as bespoke systems and machinery
Free pizza
Our own on-site pizza test kitchen tests our cheese daily = free pizzas (when available)!
Safety and hygiene
We're proudly BRCGS AA Accredited meaning we operate to the highest food hygiene standards
Work for an award winner
We've won many awards for our acheivments including the prestigious Queen's Award
Opportunities to grow
We're growing rapidly and there's tons of opportunities to progress, train and learn
Supporting charity
Make a real difference in our community with our chosen charity. From salary donations to volunteering opportunities.
Onsite parking
No scrambling around for a parking space and electric charging points means you can charge whilst you work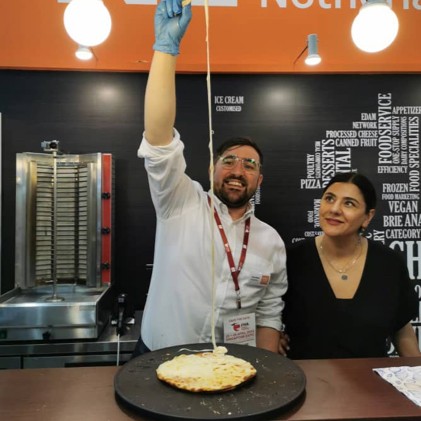 But wait...there's more
Our values are important and make us the great employer we are
Making a difference in our community

At Prima we like to raise money for our chosen charities and in 2021 we raised £1,250 for the Red Sky Ball Foundation. We love to do themed events every month and have hosted events including quizzes, bingo and fancy-dress competitions.
Proud of our zero gender pay gap & diversity

We are also very proud of our zero percent gender pay gap at Prima and we pay everyone equally based on the job they do.

We've employed people from over 28 countries and our workforce is made up of individuals from all over the world and from all walks of life.
Award winners and global leaders

We are delighted to have won several awards at Prima, including our Inspiring Female Employer of the Year award, our several Export awards and the prestigious Queen's Award.

Each and every member of the team is recognised for the work they do and the awards they help us to win. To celebrate our Queen's award, we stopped the production lines and gathered the entire team of over 160 for a celebration in the sunshine, with a street food lunch.
Training and development opportunities

At Prima we are proud of our training facilities and state of the art training room and engineering workshop. We believe in developing talent within the company and offer development opportunities in all areas of the company. Our Management Accountant, Transport Supervisor and Raw Materials Coordinator to name but a few have all progressed through the ranks at Prima.
Working in production

Our Production Operatives are all provided with the PPE they need to do their jobs on their first day in the role. The role pays above the national living wage. A lot of our Production Operatives have moved up to line leaders and supervisors and progression among our employees at Prima is something we are very proud of and encourage.
Our FED Committee

Our FED committee (Fairness, Equality & Diversity) works to promote inclusivity and offers a safe space for employees to raise any concerns.
Family testimonials
Don't take our word for it. Read what our team has to say
I am incredibly grateful for all the opportunities that Prima Cheese has offered me in the past 7 years. Experience gained working as Production Operative gave me an insight into the process of making our cheese and has shown what Prima really values. Then I was given the opportunity to prove myself in the Finance Department. Although it was challenging, the support from Prima Family helped me to achieve the role of Management Accountant.
I had my 5 year plan when I started at Prima 10 years ago at a little family-run business. After being recognised for hard work, I worked my way through Production as a Block Line Leader and was offered the Stock Controller position 3 years later. I am learning new things every day and being able to work directly with company directors, it is a key reason for me being the person I am today and I am grateful for all of the opportunities that have been given to me.
I have been working here at Prima close to ten years now. I have worked across Production, Hygiene and now Engineering, I have gained a lot of knowledge over the years thanks to Prima, they have spent a lot of time and money on the training I have received inhouse and from external courses, challenging but all appreciated, it has been great to watch Prima and its family grow over the years many more to come, a great place to work.