Nima and Nagma win the International Ambition Award with LDC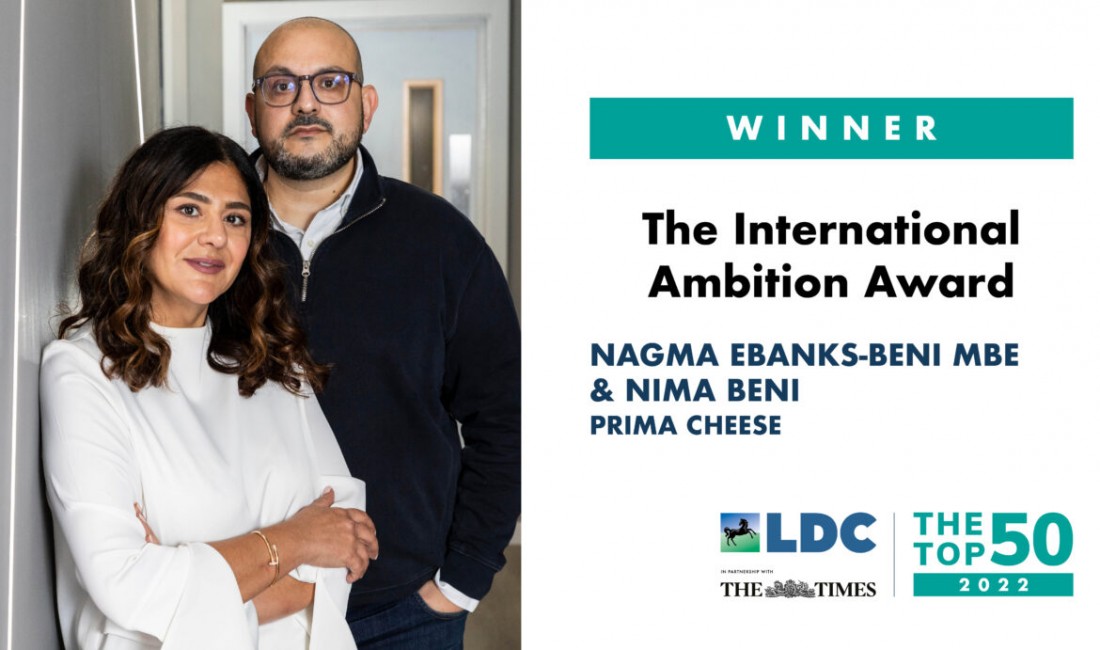 Nima Beni and Nagma Ebanks-Beni MBE of Prima Cheese win The International Ambition Award at LDC's Top 50 Most Ambitious Business Leaders programme
Nima Beni and Nagma Ebanks-Beni MBE, Co-CEOs of Prima Cheese, have won The International Ambition Award as part of LDC's Top 50 Most Ambitious Business Leaders programme for 2022.
Created by LDC, the private equity arm of Lloyds Banking Group, and supported by The Times, The Top 50 celebrates the inspiring leaders behind some of the UK's most successful and fast-growing medium-sized firms.
Now in its fifth year, a record number of nominations – more than 750 – were received this year, proving that ambition is alive and well despite the challenges faced by increasing economic uncertainty.
The accolades were given out after an intense judging session, during which this year's judging panel of Carl Castledine, CEO of Away Resorts; Jan Steele, Founder of Only the Brave Health, Nisha Katona MBE, Founder of Mowgli Street Food; John Garner, Managing Partner of LDC; and Kate Bassett, editor of The Top 50 2022 selected the final award winners.
The International Ambition Award recognises a leader's ambition and success in expanding operations or sales overseas. When Nima Beni and Nagma Ebanks-Beni MBE joined Prima Cheese, their parents' pizza-cheese processing company, they saw an opportunity to scale the business overseas. They earmarked Dubai as their first export opportunity in 2010 and today export more than 600 tonnes of pizza-cheese a week to 55 countries worldwide.
LDC's John Garner said: "Prima Cheese is a prime example of the scale that can be achieved when you put your mind to something and go for it. I'd like to congratulate both Nima and Nagma on their success.
"Those featured in The Top 50 this year are a real source of inspiration; they prove that great things can be achieved even when times get tough. Having backed the ambitions of British businesses for more than 40 years, we know just how important it is to celebrate the people who are driving companies forward, generating growth and creating jobs.
"I'd like to congratulate all of The Top 50 for 2022, especially our award winners! They demonstrate the positive impact of ambition and show exactly what British business leaders are made of."
Nima Beni and Nagma Ebanks-Beni MBE, Co-CEOs of Prima Cheese, added: "We are exceptionally proud to have won the International Ambition Award. It is an honour to be named alongside many ambitious and talented leaders and to be able to have the opportunity to celebrate our extraordinary achievements."
You can find out more information on The Top 50 Most Ambitious Business Leaders programme for 2022 and all of the winners here: https://bit.ly/3VhqayW